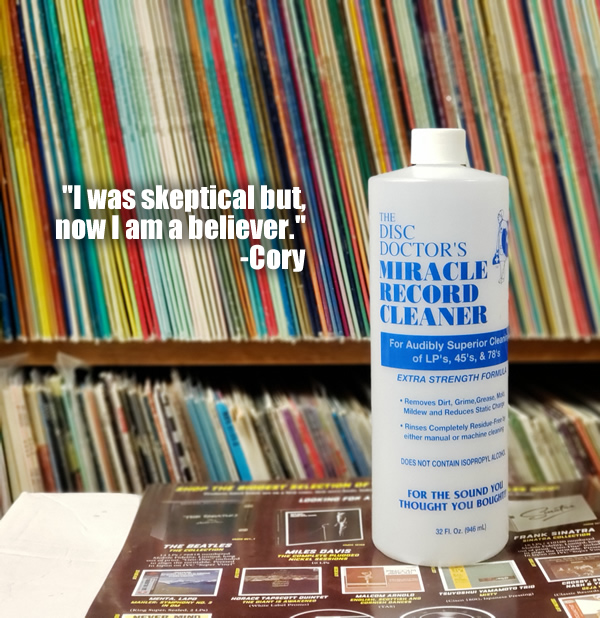 Miracle Record Brush - Nothing better IMO





5 Stars
July 14th, 2015
The brushes are clearly the best I have tried and I have been using the 2 step MRC method for about 4 years now. Superior cleaning and quite confident it couldn't get much cleaner down in the groove. I am sure the brush design has a lot to do with this. After playing several LPs you find no gunk picked up by any stylus cleaner or 'drop in' zero dust method. I assume that's because it cleaned all tout with the 2 step method. 2nd step being fully rinsed with basic distilled water in a separate brush. The sound? amazingly quiet surfaces ( I have done a ton of 'before and after' listening tests on this and there is no doubt about it ) great musicality and inner detail. More work up front... indeed,but no question superior results. I know there are several great cleaners and brush out in the market some maybe better, but I have settled on this method after 40 years of buying/cleaning/playing HQ LPs. Highly recommended.
Miracle Record Cleaner - Best so far





5 Stars
November 27th, 2013
With many of years with various fluids tried, I've found this 2 step MRC the best overall. It really out performs the 1 step fluids IMO. Worth the extra effort on LPs that are better sonically to begin with, or just plain worth it in your own mind. May not want to take the time to do this on old Hank Williams or 70s DG classical records ( no disrespect to either, I have them also) I use a Nitty Gritty to dry after the 2nd distilled water brush rinse. All very much worth the effort in my book.
Stylus Cleaning Fluid - Heard Audible Differince After Cleaning Stylus On Shelter 501 MKII





5 Stars
May 2nd, 2012
Just played mint- copy of Jerry Garcia self titled album them cleaned Shelter 501MKII stylus with Disc Doctor and heard big audible difference in high frequency information on record. I'm very surprised as this is the first time I've ever experienced a change in sound after using any stylus cleaning product. Therefore I highly recommend Disc Doctor Stylus cleaner to others with Shelter cartridges. Also just bought their record machine cleaner and can't wait to use on my VPI 16.5. Thank you Acoustic Sounds for turning me on to this amazing product.
Miracle Record Cleaner - Great Stuff!





5 Stars
December 30th, 2011
I cleaned a used album I picked up yesterday with another well known and equally expensive cleaner and afterwards you could still see the remnants of fingerprints on the disc. I used the Doctor today with the Dr. brushes and it's spotless. I was sceptical but, now I am a believer.
Miracle Record Cleaner - Nice performance and good value for money.





5 Stars
January 7th, 2010
I've recently ordered this record cleaner and it really seems to do an efficient job bringing "hidden" sound subtleties back to audible surface. Good value for money!
Miracle Record Brush - I LOVE THIS STUFF





5 Stars
October 27th, 2009
I have tried many cleaning solutions and this one is the best in my opinion... I won't bother you with specifics except to say it removes many many things and can make a nasty moldy, dirty, dusty finger printed piece of vinyl look great and sound as good as it can. Of course, I am waiting on the scratch and skip fixer but that'll probably be on some infomercial with a loud bearded man showing the amazing results...
Miracle Record Cleaner - Better than the others





5 Stars
January 1st, 2009
After getting a record cleaning machine this year and trying several methods and fluids, as far as I can hear, no one-step process gets the record as clean and quiet as the DD fluid. It takes a little more time to clean a record, but the results are worth it. For myself, I place the record on a clean towel and scrub with a DD brush and fluid - lightly remove with plain Scott toilet paper (DD recommends this) Then, using some of that ultra pure water rinse (there are several) lightly scrub the record with a second DD brush and remove with the toilet paper. Then do one more rinse (I use the same rinse brush) and vacuum dry. I know it sounds a bit time consuming, but it only takes about 5 minutes and the results just kill the one-step methods recommended by the cleaning machine makers. Anyway - amazing stuff when used properly.
Quick Wash No-Rinse Vinyl Cleaning Solution - Best Way to Wash Your Vinyl





5 Stars
December 25th, 2008
Excellent record cleaner to use with a Nitty Gritty-type vacuum record cleaning machine. The secret to using it: use a VPI record cleaning brush to apply the solution to the record and spend 45 seconds brushing the solution onto the record's surface. Then follow it up by using the Disc Doctor applicator to apply distilled water to rinse the solution off the record surface. Finally, use your vacuum record cleaning machine. After you clean both sides of the record, stand the record on its edge to air dry for 15 minutes before playing the record. Ouila! You'll have a great sounding record after you've cleaned it in this fashion.
Miracle Record Cleaner - So Far This Is The Best





5 Stars
July 25th, 2008
This is a good fluid to use. Doesn't leave much residue at all but you have to rinse!
Stylus Cleaning Fluid - Simple





4 Stars
July 6th, 2008
It's really simple, just follow the directions. I'm absolutely positive that it works, but my stylus is so new I wouldn't be able to hear the difference no matter what.
Miracle Record Brush - A useful tool





4 Stars
May 5th, 2008
for cleaning vinyl records. However be very careful regarding the possible transference of the adhesive from the replacement pads to the surface of your records.
Miracle Record Cleaner - VERY VERY GOOD STUFF





5 Stars
March 18th, 2008
This works very well indeed. Whether your record is already clean or a dirty tag sale buy, it'll do the job. On REALLY dirty/moldy records, I use a pre-wash of organic dish soap and distilled water to get up the worst, then do a fine/finishing cleaning with Miracle Record Cleaner. (Of course I am using a VPI sucker machine...)
Disc Doctor Kit - Disc Dr Miracle Record Cleaning System Worx GREAT!





5 Stars
March 7th, 2008
Not only does this product remove harmful debris from the record's surface (protecting your investment in both software & phono cartridge as well as prolonging their use), but it deeply enrichens the sound your stylus can retrieve from it. Presumably, dissolving & removing the MRA from the stamping process unveils fine harmonic detail in the grooves' topography that was previously insulated from stylus contact. Properly cleaning a record with this product makes it sound simultaneously warmer & brighter (a seeming contradiction). But it's true. For best results, rinse with distilled water & vacuum residue from surface with any of the great record-cleaning machines on the market (I use the AcousTech "Ultra" from Hannl with wonderful results). There is no substitute for vacuuming the record clean.
Miracle Record Brush - Nothing Better Than the Doc's





5 Stars
January 11th, 2008
Over the years I have tried MANY record cleaners, brushes, etc. and NOTHING has done the job as well as Disc Doctor. A/B comparisons and cleaning an already "cleaned" Lp with Disc Doctor have invariaby led to less noise and more information from the Lp!!! You will hear things you didn't know were there. His brushes also kill the rest and with replacement pads for them available you can't go wrong! My Highest recommendation or what I like to call my Five YIPES!!! recommendation.
Replacement Pads For Disc Doctor Brushes - Long Lasting





5 Stars
November 17th, 2007
These look just like all the others. Maybe they are all the same but these seem to clean better, do not scuff or scratch and last a very long time. I use these on my Orbitrac pads and they get quite a workout compared to using handheld. I rinse them in distilled water and wash with a extra soft toothbrush after each session and they keep going like new. You might have to use a little rubber craft glue on the edges for the Orbitrac and heat gun to change. I am very happy with them and feel they are a good value.
Miracle Record Brush - Record brush supreme





4 Stars
July 13th, 2005
The best record wash brush I've tried. Really gets into the grooves and moves the cleaning fluid through the grime!